Try Our BRAND NEW, Lightning-fast Turbo SpeakerSearch© Tool!
Speaker Programs in leadership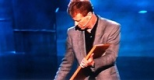 Ever wonder why there are so many unique problems in the workplace today? Can you imagine a workplace without cell phones, the internet and social media? Giani sure can. What do you want from a leadership speaker? Do you want someone who has been in the trenches? Someone who rose to the top? Or, perhaps, someone who has seen a thing or two in many different fields. From working at Cape Can...