Programs Tagged With "consciousness"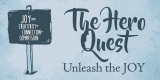 No matter how successful or stuck we currently are, we can live life more powerfully, deeply and joyfully. This is the ancient wisdom of The Hero Quest. These tales were never about defeating monsters. They were always instead about showing us how to walk a path of more conscious and mindful living. Why should we care about being more conscious in our living? Because consciousness expansion ha...

What is everyday courage, and how do you apply the benefits to daily life? How might your life change if you integrated five simple courage tenets that transcended "I Wish I'd Had More Courage!"? Traditionally, courage is viewed as withstanding danger or facing fear under perilous circumstances; however, courage originates from the Old French "corage," meaning "heart and spirit." This...