Programs Tagged With "diversity"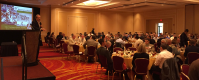 THE MOST REQUESTED TOPIC (customized to your needs): A study at the Carnegie Foundation indicated that 15% of financial and career success can be attributed to technical competence, while 85% is due to good interpersonal skills. It is more than probable that just about every employee is profoundly competent and what he/she is doing for the organization. I am focused on the 85% — the human capital aspect of success. We all are different. Some of us are thinkers, others are doers, some are passive, and still others are aggressive. Most people come to work with pretty good intentions, but we get on each other's nerves just by being ourselves. We will have a lot of fun discussing how our interpersonal skills can be enhanced 7 days a week…especially designed to help at work…but also providing insights that can positively impact relationships at home. For 20 NBA seasons I served as player development mentor and character coach for the Washington Bullets/Wizards team — which has g...

What is "Unconscious Bias?" We can't address it if we aren't sure what it is or how it shows up in our personal lives. Regardless of your ethnicity, gender, nationality or socio-economic background, and regardless of how liberal you may think you are, we are ALL guilty of unconscious bias. Sometimes it shows up as a fleeting thought as you pass someone on the street, or a snap judgment you make about someone you meet for the first time. Through candid conversations, open dialogue and real-world examples, this session will uncover the shocking proof of how unconscious bias shows up in our daily decision-making, and how it can impact the workplace, employees and overall productivity.

Your mindset is the most powerful tool in your arsenal for success. Doubt, negative self-talk, lack of confidence, and perfectionist thinking are just a few areas of your mindset that may be keeping you from the success you deserve. Being self-critical and having unrealistic expectations leads to disappointment. It is possible for you to recognize, change, and implement strategies for a better mindset. Your ability to keep your head in the game will determine your ability to succeed at your goals. Dr. Kristie will talk about: -The psychology of a successful mindset -How to change your thinking to improve your results -Three tools to change your self-talk -How to overcome unrealistic expectations -Strategies for mindset maintenance

WOMEN, LEADERSHIP & THE FUTURE OF WORK 2020-2030: By 2030, the technological disruption of Industry 4.0 is projected to eliminate 30% of the jobs that exist today. The overwhelming majority of job categories that will be eliminated are typically held by women. New jobs will emerge, however, will require advanced technological, analytical and hybrid skills that many women will not have developed or acquired and will contribute to increased levels of gender inequality at the most senior levels of organizations. Learn how women can close the gap, rapidly skill-up and develop the leadership capacity to drive exponential innovation and growth for the organizations of today and the future!

Every single person has the capacity to be a leader. Whether in self-leadership or leading others, understanding how to step into your best self propels one forward to master what makes them uniquely successful.

Problem: These days, it is not uncommon to see a lack of diversity at the top of many business institutions. Currently, there are only 3 African American CEOs in the fortune 500 companies. By being in the minority, there is an obvious concern for how successful our attempts in climbing up the corporate ladder will be. The mantra that you have heard is that you need to work twice as hard as your counterparts in order to even scratch the surface of playing on their level. Sometime this is simply not enough. Solution: Hard work is good. Smart work is optimal. By being more creative and leveraging yourself personally and professionally in the proper way, you will help you facilitate the process. In this high impact presentation, you will learn: • That the first step up the corporate ladder begins with you. Learn how to effectively navigate your four Ps in life, your possessions, passions, productivity and purpose, allowing you to overcome societies barriers against you. ...

This is one Dr. Sytner's most popular presentations, which audiences absolutely love! While goals and dreams are wonderful, what happens when you hit a bump in the road and life takes an unexpected turn? Do we give up, create excuses, or adapt and succeed? The hardest lesson to learn (especially among the younger millennial generation), is that failure is the key to ultimately succeeding. With a culture of instant gratification, impulsivity and technology overload, intentional strategies are required to overcome the temptation to quit. In this inspiring and humorous presentation is broken up into 3 components: 1. Sharing case-studies, examples and interacting with the audience to unpack the problem we are going to solve 2. Sharing research-based strategies for how to face the unexpected, whether at work or at home, and confront pain, struggles, and obstacles 3. Brining it home with inspirational personal examples. This includes the story of how Dr. Sytner survived ...

We are all different. Learn how Amanda McDonough accepted her disability and uses her differences to help others. Your audience will be given easy steps for how to appreciate their own diversity and the differences of others around them.

Why do more people quit their bosses than their jobs? When leaders rise because of their skills, they are often unprepared for the human side of leadership. "Leading With HEART" increases leadership capacity by creating and maintaining engaged and motivated working relationships when leading with HUMANITY, EMPATHY, ATTENTION, RESPONSE, and TRUST. Includes practical applications for effective interpersonal communication.

The purpose of Diversity and inclusion is to move the needle forward for your business, so that your work force is more reflective of your customers and the world around you. There's also boxes to be checked and government subsidies, but creating safe spaces where people can have conversation and express ideas and creativity with peoples who do not look like them is the pathway to seeing the humanity in everyone. This talk is about moving beyond stereotypes and forced interaction. It's about growth and the path to Acceptance, which is the real end game.