Program Ideas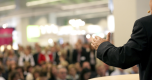 This seminar has WOWED countless audiences, by taking a bold, but humorous journey through the impact of stress. It uses a scientific approach, which looks at the psychological and physiological impacts of trauma and stress, coupled with the revelation of an inspirational shift teaching audiences how to re-process stress in a healthy way. The presentation is broken up into 4 components: 1. In...

This is one Dr. Sytner's most popular presentations, which audiences absolutely love! While goals and dreams are wonderful, what happens when you hit a bump in the road and life takes an unexpected turn? Do we give up, create excuses, or adapt and succeed? The hardest lesson to learn (especially among the younger millennial generation), is that failure is the key to ultimately succeeding. ...

As the marketplace has shifted, wherein millennials are the fastest growing demographic, it has moved the needle of focus from the client to the provider. Previous generations took great pride in maintaining customer loyalty, however, today, millennial customers are less loyal than ever, and millennial employees are less interested in going above and beyond to make someone else the focus of their ...

Having conducted extensive research on the Millennial generation, Dr. Sytner is a worldwide sought-after, and highly respected speaker on this topic. He has developed a humorous, relevant and substantive 9-point presentation to help unpack the simple sociological features of this digital generation, as well as unique strengths which millennials bring. He is in the process of authoring his ...

"Teaching an audience how to diffuse conflict can be a very difficult task. Yet, Dr. Sytner did it masterfully." Audiences consistently enjoy the way Dr. Ari Sytner takes an uncomfortable topic and uses humor, scientific research and story-telling to convey a central message that is so universal to all people. Conflict is a part of life, and rather than reinvent the wheel, Dr. Sytner opens ...