Try Our BRAND NEW, Lightning-fast Turbo SpeakerSearch© Tool!
Speaker Programs in Presentation Skills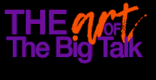 In this workshop, TEDx producer, Tricia Brouk will take you through the process if identifying the difference between a Keynote and a TEDx, help you land on your big idea, write the through-line, an amazing opening that will get your audience to lean in. She also covers how to create a call to action that gets the audience to adopt your idea as their own, and teaches you how to use objective and ...

A high-performance mindset is the number one factor that drives sales success. "Maximizing Sales Performance" is sales training combined with two decades of mindset and performance research – it is designed to help you and your team dominate in sales. "Maximizing Sales Performance" covers many sales principles and strategies, including the following: thinking l...