Try Our BRAND NEW, Lightning-fast Turbo SpeakerSearch© Tool!
Speaker Programs in Writing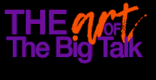 In this workshop, TEDx producer, Tricia Brouk will take you through the process if identifying the difference between a Keynote and a TEDx, help you land on your big idea, write the through-line, an amazing opening that will get your audience to lean in. She also covers how to create a call to action that gets the audience to adopt your idea as their own, and teaches you how to use objective and ...

There may be a book in all of us, but not everyone will write their story. The process can be frightening and overwhelming. These keynotes and seminars are designed to take the fear out of the process and give writers the confidence they need to move from manuscript to marketplace.. Carol Andrews has either independently published her own books or helped others do the same since 2003. This To...

Imagine never again experiencing the exasperation of having to complete a writing project, and your brain going numb. Let your imagination soar as the world's fastest reader teaches you to quickly and easily overcome writer's block to complete your writing projects on time...all the time. Howard has written over 100 books and programs that have grossed over $65 million. Trained in Psychobi...

We all want to be better writers and make sure our thoughts are clearly received. This workshop (half-day or full-day) will show you just how to bring your writing into the 21st century. Upon completion of the workshop, participants will be able to: - make sure subjects and verbs agree; - describe the difference between active and passive voice; - describe when it is good to break punctuati...

Forbes says that public speakers get 50% more opportunity, so why not learn how to become a more proficient communicator. Learn to speak with comfort and present professionally. Learning how to pick a topic, how to address an audience and discovering the Do's and Don'ts of public speaking. Optional Bonus: How do I write my book? Topics include: 1. Develop comfort speaking publicly 2. Learni...