Try Our BRAND NEW, Lightning-fast Turbo SpeakerSearch© Tool!
Most Recent Programs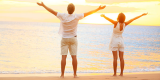 This program shares the story of Victor Vonico Johnson as he grew up in a single-parent home in a lower income community, then as an adult he struggled with his finances, had horrible credit, no college degree and 3 children with 2 different women (out of wedlock). His poor credit and money management, led to him filing bankruptcy on 2008. Through these adversities, Victor became a voracious reade...

The ability to create and sustain a high performance culture in any organization is one of the master skills of leadership. Unfortunately, these skills are often elusive to many leaders. Creating a highly charged, super-expectant atmosphere of achievement; is not magic, it's effort and it can be learned. This session is transformative and empowers leaders to take a hard look at their business a...

Overcome: Frustration, Burn-Out and Ineffectiveness  FROM POTENTIAL TO LEADERSHIP POWER – Master Passion, Purpose, & Performance True leaders must lead their self and their life with the same excellence they lead their teams. Leadership Mindset is your key to success. I reveal the most important inner shift. The shift takes you from an Ineffective inner leadership to a mastery of self, ...

Media has the power to affect how we think and behave. It helps in shaping our attitudes and beliefs; and ultimately affects our opinion of people and situations. Whether we are conscious of it or not, media has the power to directly or indirectly form our understanding of culture and gender as well as magnify commonalities or differences. It is because media has the strength to positively or nega...

You have been taught to believe that organizational change takes a long time... that you have to accept "the way things are here" as normal and expect to have to work around certain people or groups to do the best you can to achieve the company' goals for change. What if you could set new standards for what you will accept? The good news is.... YOU CAN! it's all about your perspective... yo...